As technology grows, we rely on our smartphones and tablets more and more for our daily life. Whether you are skimming through social networks, streaming movies for the kids, syncing the families' personal calendars into one, or using your phone as a second office, our smartphones have truly become our right hand man.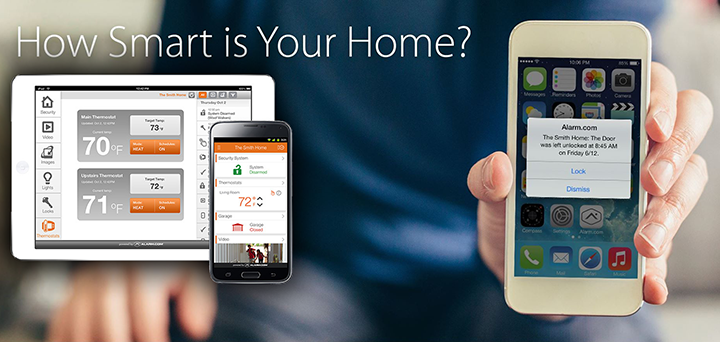 With this in mind, security companies and alarm technicians have created a way for your smartphone to enhance your security system options. Most people use a basic alarm system that has a keypad to both activate, and deactivate your home's alarm system. With the help of an app that has been wirelessly integrated into the security system, you are now able to alarm and dis-alarm your system remotely via your smartphone.
This can be taken a step further with more advanced security systems that include camera surveillance. With the connection of your surveillance and alarm systems to your smartphone, you can remotely monitor your home wherever you are. Stuck at the office and want to make sure the kids got home ok? You can check that right from your phone. On vacation and can't remember if you activated your alarm before you ran out the house to the airport? You can do that from your phone too.
Although smartphone security cannot guarantee you more safety, it can make your security system more accessible to you. You are able to see a running record of who is in and out of your home, anything that his happening around your home, and you can be sent notifications if anything triggers your alarm.
Peace of mind at your fingertips is the goal of smartphone security and we at Tasco Security would like to help you have that peace of mind. As always, all of our security systems are customized to each customer's needs, so give us a call today and ask how smartphone security could enhance your security system.