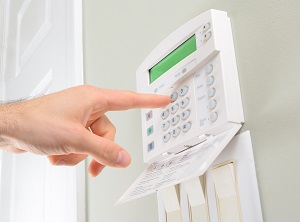 A home security system seems pretty straightforward. A systems main purpose is designed to protect the home and its inhabitants and to deter any possible intruders. These days, many home security systems have extra add-ons available, helping homeowners become more creative with how they keep their home secure. Here are a couple ways a homeowner can get creative with how they protect their home and their family:
Receive Regular Text Updates. A security system today may have an option enabled to let homeowners know exactly what is happening in their house at any given time by sending regular text updates. Perhaps a homeowner wants to know if their front or back door is opened during the day while they're at work. All they have to do is set up a notification from their security system to send to their phone.
Monitor the Home Remotely. Many of today's security systems are so high tech that many allow remote monitoring of a home. That is, security cameras may beam an image or video from the home to a cellphone, tablet, or computer anywhere in the world. A homeowner simply has to access their security system with their username and password to begin viewing either the interior or exterior or their home.
Install Text Notification for Latchkey Kids. It's highly recommended that a new homeowner install a security system in their home, and having extra add ons may also be helpful for maintaining further security and peace of mind. Security systems that include an option for alerting homeowners whenever someone, like their child or relative, enters the home can provide a sense of security for them and their family. When someone gets home, like a child getting home from school, they simply have to disarm the alarm with the security code. A text is sent to parents telling them that their child has gotten inside safely.
These two ways certainly enhance the variety one has access to when it comes to keeping their home secure. While there are even more ways a homeowner can use their security system, many vary based on the security system they choose for their home. Homeowners should ask their security system company which systems offer the greater flexibility in functionality and options in order to discover additional creative ways to protect their residence.
SOURCES:
http://www.streetdirectory.com/travel_guide/61008/home_security/get_creative_with_your_home_security_system.html
http://roberterich.hubpages.com/hub/The-Best-Creative-Security-Systems-for-a-House