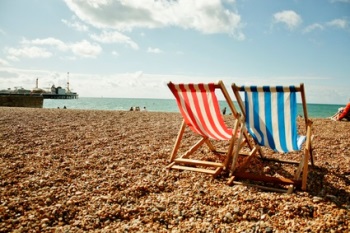 Summer is here, and that means swimming pools, shorter clothes, and long vacations. Summer is the idea time for vacationing and visiting friends and relatives. On the other hand, being away from home also means homeowners must give up a sense of control, leaving the safety of their home largely in the hands of fate.
Locking all doors and windows is a great first step, however, the last thing a homeowner wants to experience when arriving back from a vacation is seeing that their home has been burglarized. Here are some tips for keeping a home safe during vacation:
Discontinue Paper Service. If a potential criminal sees a pile up of newspapers on a doorstep during a vacation, they're more likely to think that the homeowners are away. This can promote a higher incidence of burglary. Homeowners are advised to discontinue their paper service while they are on vacation, or to have a neighbor, friend, or close relative to pick up the mail.
Keep a Car in the Driveway. Leaving a secure car in the driveway while on vacation may tip off burglars that someone is home, reducing the chances of a break in. Better yet, having a relative or friend house sit may also discourage unlawful entry while traveling.
Install a proper Security System. Having a security system that monitors suspicious movement, unauthorized entry, and burglary can keep valuables (and the home) safe and secure. A security system that allows homeowners to control outdoor lighting may also be helpful for discouraging nighttime intruders.
Refrain from posting whereabouts on social media. Posting that a family is going on vacation in a foreign land or location can travel quickly through the grapevine, especially if privacy controls on a social media platform are relaxed.
What are your suggestions on keeping your home safe during a vacation? Share with us your tips and tricks on our Facebook page!