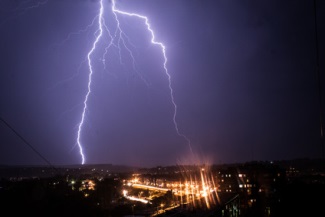 Summer storms can mean power outages and flooding, two occurrences that can seriously threaten the proper running of a household. While storms must cease, its ability to hinder a home's security system can be quite damaging, not to mention dangerous. Whether it's a downpour of rain, tornadoes, lightening, or hail, summer storms can leave a house susceptible to a compromise in security. Fortunately, there are some things homeowners can do to prevent a storm from affecting a security system, no matter what season it is.
Homes need protection at all times, even during a summer storm. Many storms during the summer can be severe, especially if it is a monsoon. If a storm becomes severe and a home is struck by lightning, uncontrolled darkness and a malfunctioning security system may be the result. Fortunately security systems have backup battery in case of a power outage; however, many homeowners don't check to see if this battery is fully charged. A security company will receive notifications in case a battery runs low, which can be incredibly helpful for busy or forgetful minds. Make sure that a backup battery is functioning, especially during monsoon season or just before a storm sets in.
A false alarm can be problematic during a storm, especially if homeowners are new to operating their system. Also, police may be informed that a break in occurred if users make a mistake with the operation of their system; however, security systems often have clear, simple instructions that are not typically confusing to most individuals. Some municipalities have fines for homeowners that have false alarms related to security systems. This is why it's crucial for homeowners to understand their system and to receive the proper advice and instructions from their security company. Being educated on how to operate a security system during a storm is also pertinent information a homeowner should know to prevent a false alarm.
What are your thoughts on summer storms and how it can affect your home security system? Has a storm ever set off your security system? Share with us your thoughts on our Facebook page as well as in the comments!