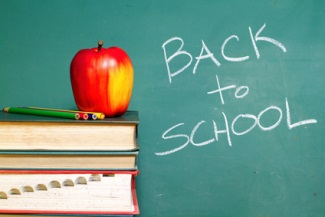 The back-to-school season is an exciting, stressful, and rewarding time for students and teachers alike. Whether kids are going back to school for the fall or spring, it's always best for parents, teachers, and students to adhere to a few safety guidelines during the school year. Here are some of the best back to school safety tips that every child and adult should know and use:
Walking Safety. Parents should advise their child to always walk on the sidewalk if walking to school or the school bus. Regardless of whether or not an adult is walking with the child, instilling appropriate walking safety tips in younger years can help establish a safety consciousness for years to come.
Choose Backpacks Wisely. Large backpacks that encourage carrying heavy loads may wind up doing just that. This can hurt a child's back and even promote the risk of injury to other children. A backpack should be purchased to fit the child and shouldn't weigh more than 10% of a child's body weight.
Monitor Playground Activities. If a child younger than four is going to school and will be participating in recess, it is important that the child is monitored at all times during the recreational activities. Making sure teachers or other supervision is given while on the monkey bars, on concrete surfaces, or on climbing structures can be helpful for keeping a child safe.
Teen Driving Safety. Parents giving a teenager a car to drive to school should provide a vehicle that is up to date, has functioning brakes, and is constantly supplied with the correct fuel for the trip. Adults may want to accompany their teenaged driver to school for a few days before giving them complete control.
Encourage Speaking Out. Parents should encourage their children, even at a very young age, to speak out whenever they feel they, or those around them, are in a risk of danger. Even if the danger is perceived as fairly small, like a child walking with a pair of scissors without adult supervision, it is wise for children to know when to speak up whenever they notice something amiss.
Whether it's helping a child on their first day of school or preparing the way for a freshman college student, practicing these safety tips can be helpful for making a smooth transition.
SOURCES:
http://www.rd.com/advice/parenting/back-to-school-safety-tips/
http://www.nsc.org/safety_home/SafetyObservances/Pages/BackToSchoolSafety.aspx