As the temperature drops and the chill turns to frost, it's time to prepare your home for winter. Here are some tips to help make sure your home is secure and energy-efficient this winter.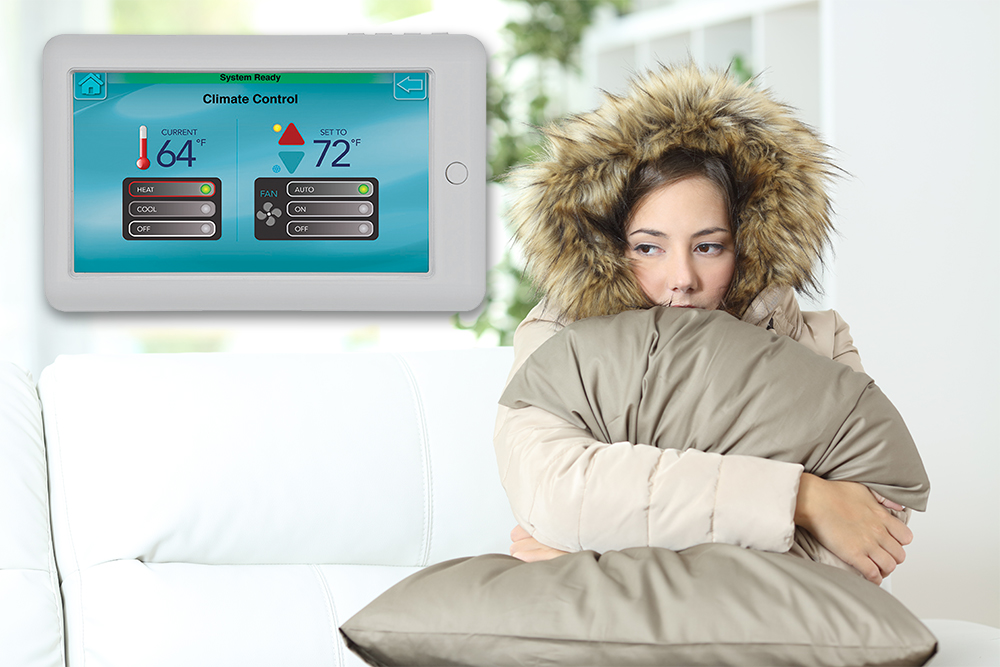 Disaster Kit
No one likes the unexpected but with winter weather come the potential for power outages. Compile a kit that contains at least the basics: a flashlight or battery-operated lanterns, portable radio, extra batteries, first aid kit, bottled water/juices, nonperishable food, manual can opener, and extra blankets for warmth.

Other items to consider including in the kit are extra prescriptions, contact lenses, hearing aid batteries, inhalers, and items for babies or family members with special needs. The Red Cross recommends storing an ample supply of items necessary to sustain every member in the home for at least three days, in case you're snowed or iced in.

Smoke Alarms & Carbon Monoxide Detectors
Test all smoke alarms and carbon monoxide detectors within your home and replace all with new batteries.

Alternative Heat Source
Auxiliary heaters and wood stoves should be tested and cleaned before you need to use them in the event of a power outage. Store kerosene only in approved containers and in an well ventilated outdoor garage or shed away from flammable materials and heat sources.

Furnace & Thermostat
Give the system a full test and, if needed, consult a technician for a tune-up and cleaning before the system requires daily use. Consult Tasco Security to install a programmable thermostat that can automatically lower the temperature for when people aren't home and raise it before they get home for a warm return. Lowering the thermostat by 10 to 15 degrees for 8 hours could save as much as 15 percent a year on heating costs.

Air Conditioners
Cover window units or remove them entirely so you can completely close windows and prevent drafts.

Ceiling Fans
Switch the direction of the blades to spin clockwise and run at low speed to circulate warm air down from the ceiling. Warm air rises and cool air descends, so the direction your fan should spin depending on the season.

Storm Doors
Remove screens from storm doors and replace with the glass panels.

Rodents

Seal all holes and cracks around the exterior of your home to help ensure pests, like mice and squirrels, can't get inside for the winter.

Block Drafts
Use weather stripping, window film, and caulk to control heat loss around doors, windows, and baseboards. Reducing drafts could save up to 30 percent in energy costs per year.

Chimneys
If you have working fireplaces, have your chimneys cleaned by an experienced chimney sweep to help decrease the risk of fire from blockages or creosote buildup.

Water Heater
Consider lowering the temperature on your water heater. Most are set 140 degrees as a default, but some households only need a setting of 120 degrees for comfort. A lower temperature may also help reduce wear and tear on the pipes. You could save as much as $30 per year for every 10 degrees the temperature is lowered.

Clothes Dryer
Clean out the lint in your dryer filter, as well as, the entire dryer hose to reduce the chance of fire.

Leaves
Remove any leaves accumulated around the exterior of the home, window wells, and gutters.

Bush & Tree Limbs
Trim any bush or tree limbs which may be touching the exterior of the home or obstructing a view into the home. Intruders are particularly prone to access through windows and doors that are hidden from street view.

Exterior Water Faucets
Shut off the water to all exterior faucets and drain the lines to help prevent freezing and pipe bursts.

Other
Never use a generator inside your home – it could pose a carbon monoxide threat.
Prevent Pipe Freezes - if you lose power or temperatures are extremely low, keep your indoor faucets dripping slightly to prevent pipes from freezing or bursting.
Keep your cell phone charged at all times.
Keep your vehicle gas tank filled at least halfway at all times in case you are stuck in traffic.
Keep a safety kit in your car – blanket, gloves, hat, coat, boots, water, flashlight, energy bars

Tasco's extensive product offerings include low temperature alarms, water emergency notifications, on-site camera protection, and other home security and automation integration to keep you notified of what's going on at home while you're out and about. Learn More about the newest technologies to keep you and your home safe this winter.

Tasco Security has been providing Peace-of-Mind Security to the greater Upper Valley region of New Hampshire and Vermont for over 47 years. Contact us today for your FREE consultation – 800-546-5552.